Save Snaky the snake by helping it to escape levels all more original and evolved than the others in this unclassifiable game: between arcade, puzzle, action and skill...
Remember the good old Nokia Snake in 1997? Take this classic and put it on steroids: you get this new original snake game. But we are not in 1997 anymore:
Features
Rediscover the Snake game thanks to 8 level types: snake-invaders (my personal favorite), bomber-snake (a classic that never ages), pac-snake (game rules have evolved), breakout, course, pong, modern and classic!
Experience hours of constantly renewed fun in hundreds of evolved levels spread across six campaigns
Move the snake freely through 360° with intuitive and customizable controls
Go at your own pace by speeding up and slowing down the snake during game
Unlock two other game modes, including the diet mode
Relive the emotions of the original Snake with the classic mode 90°
Master the 10 snakes. Each snake has its own character: slow or fast, long or short, easy to handle or more spicy... Master these snakes and you will be rewarded!
Avoid pitfalls: energy balls, spaceships, ghosts, lasers, rotten apples, poisoned darts, mobile scaffolds, picks, one ways...
Use power-ups wisely: resurrection packs, shields, teleporters, hexagon fragments, flying apples, switches and gates...
Arm yourself with missiles and bombs: it will be explosive! Unless you're afraid to kill...
Destroy the enemy ships and destroy the walls in the levels
Cast out all bonus points in time and perform combos to make big scores
Win all 2,590 medals (you will have to eat a lot of apples!)
Take up the challenges of the 39 special achievements (a lot more fruits to eat!)
Compare your scores and achievements with friends or other people in the world
Earn 40 bonus videos
The intuitive controls make it easy to guide the snake thanks to a joystick wheel. You can also change the way you drive the snake: wheel at the right, clockwise or anti-clockwise arrows, accelerometer or in a more classical fashion with direction cross.
A Wide Variety of Levels
Levels can sometimes be puzzles, sometimes require address, sometimes require speed. Play peacefully with ease like the good old time, or choose a more intense level. Choose an advanced level or a more sober classic...
Do you feel interested in exploring mazes? Hungry of action? Wanting to be zen? Hungry of demolishing everything with bombs or exploding things with missiles? Do you want to hunt ghosts? Or to chase flying apples? Yes, you read that right...
Some game plays will be fairly easy, while others will require skill to master a long snake like in Tron.
You have it all in this game of snake, both classic and original. Each level is different: levels will surprise you by their originality. Much more exciting than the old days, in 1997!
Note: you can pronounce the game "snacky" or, in a more original way, "snakey".
The Bottom Line: if you're hungry, eat apples: it is good for staying healthy ;-)
Awards & Recognition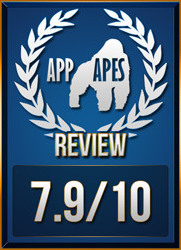 Selected Articles